Wednesday, June 15, 2005
exhibition diagram
Making One's way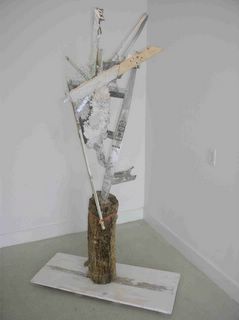 PH
Laocoon
Indigenous
Death of Dance
...But with their hands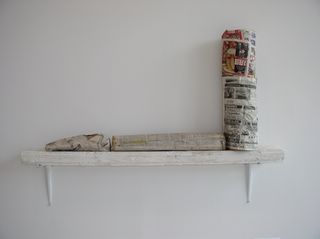 Relic
Prelude (cocked)
prelude (cocked) as viewed from out side.
Posted by

cralbert
at 11:03 PM
0 comments

The weather broke today. Finally. It's been fairly miserable over the past several days.
Second Saturday in Beacon rolled around, and it was the stickiest, most uncomfortable day of all. The weather definitely had an impact on the openings that night. There was a body of folks who braved the heat, but it was considerably down from what would be expected.
It took an hour and a half before anyone really came into my opening at bau. I was wondering if I'd be there by myself, fortified with plenty of beer, all night. As the heat slowly ebbed, folks started filing in. Considering the heat, I think the turnout was respectable.
Over at Spire, the story was much the same. Dana Edelman was playing with a couple of other musicians, and the performance was good. Unfortunately, there just was not a great number of folks to listen. There was a keg of Heineken waiting to greet visitors that went largely unconsumed.
For the open studio, I presented some sketches that were done for my amalgam show, and a shelf of plaster casts, some made over the past year and some made for amalgam that were not used.
Angelika presented digital various digital prints from misc. images taken while she was in Syracuse.
The Day After.
The day after the open studio. Completely clean, thanks to Angelika's efforts. It had been suggested, but not really registered, that I photograph the studio before the cleaning...as the aftermath of preparations for bau 6. It was something to see. Layers of sawdust, plaster dust, styro pellets, tools etc. everywhere.
Now that everything was so tidily put away, I can spend the next couple of weeks looking for the things I will be needing.
Posted by

cralbert
at 6:48 PM
0 comments

Tuesday, June 07, 2005
My life is about to get a good dose of normalcy, and sensible structure. Angelika is returning today from her month at
Light work
, and none too soon.
Posted by

cralbert
at 7:48 AM
0 comments

Monday, June 06, 2005
This is the final stage of Navelglazing. And it is on the wall. The Via Beacon exhibit looks good. There are just a couple images of the show on maykr.com. More will be posted later.
I was driving back home from Syracuse last week, and decided what was needed to resolve the piece for me. I just did not know how it would be applied. I added the black stripe in the bottom half. This added a bold structural element that I all but avoid in my work. I felt that the stripe fit in contextually, and it really added an edge to the piece. The other last minute variation I made was to cut off the lighter portion in the upper right corner from the edge.
Monday evening, right after I had finished the stripe, my Studio neighbor, Kathy, who is also in Via Beacon poked her head in to see my painting. After making an exclamatory sound of some sort, she said "come in to my studio." Two days before, she had resolved one of her pieces for the show with a series of black bands.
It was crazy. A device that I would never consider using also shows up in her piece. The proportions of my stripe are similar to Kathy's stripes. The director of the Rockland County Art Center asked if Kathy and I were a couple and produced work that conciously referenced each other. Definitely not....but perhaps we've been spending too much time together...I won't even mention our now closed joint checking account.
Before long, I will post an image of Kathy's striped piece....
But should be in bed currently preparing for a full day of work for my bau show....4 days....nothing is yet resolved.
Posted by

cralbert
at 11:59 PM
0 comments

The Garnerville show opened this weekend, and it went well. I will shortly post images of my work in the show, and images of the overall installation.

I will also be posting images and info on the bau 6 work as time allows. This week will be dominated in moving, and installing work at bau.
Posted by

cralbert
at 8:02 AM
0 comments